Water Damage and Your Camera!
It is well known with photographers that water damage can be harmful and sometimes fatal to your camera. A sudden downpour of rain while out bush walking or trying to get that close shot at a waterfall and water penetrates the camera. Even the smallest amount of water can cause damage. As well, water sitting inside the camera or lens will cause condensation with long term damage occurring.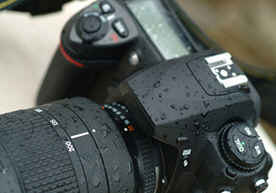 At Photography Accessories by Crafty Bells we have designed a lightweight, yet durable, Camera Rain Cover to pull out of your bag when that sudden spurt of rain arrives or you want that shot of rapids and waterfalls where water splash can get onto and into your camera. Don't forget about snow conditions as well, as this is where most damage can be done, not only by the snow, but by the cold conditions causing condensation and water build up in the lens.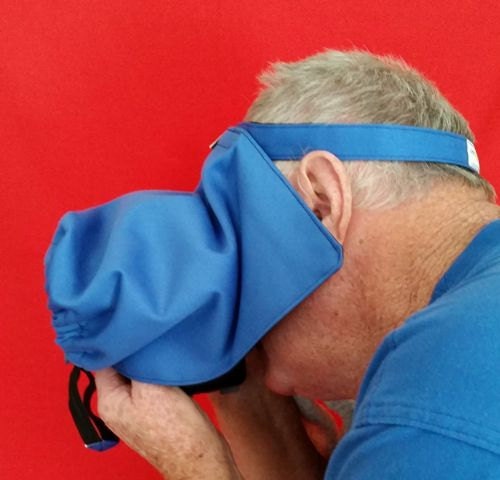 This Camera Rain Cover has been designed so that the camera and the view finder are undercover and protected while taking those shots. How it is used:
the headband is placed around your head, under your hat or rain hood and adjusted to a comfortable fit.
place the camera under the Rain Cover inserting the lens through the front adjustable slot.
adjust the Rain Cover to a snug fit around the lens
the Rain Cover is now brought up and attached to the headband along the velcro strip
ensure the sides of the Rain Cover are fully covering the sides of the camera.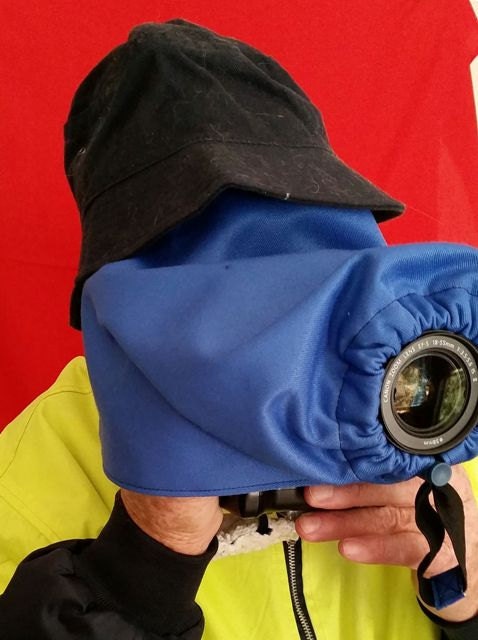 The Camera Rain Cover is made of three layers of material
outer thermal, which can be sprayed with water repellent 
inner layer of thin moisture resistant material
lining of cotton
comes in its own carry bag. 
colour choice
custom made in lengths to suit the lens. 
The Camera Rain Cover (pictured) is 28cm from the tip of the lens slot to the headband. 
Cost for the 28cm is $55 +p&h 
See also Camera Dust Covers and Lens Warmers
#DifferenceMakesUs #EtsySuccess #EtsyClub #photography #accessories #camera #macro #portrait #landscape #snoot #reflectors #lenswarmers #lensbags #stabiliserpillows #camerastraps #australianmade #australia #smallbusiness #handmade #pointandshoot #cameracases