I've come to realise that when buyers browse through online stores with the intention to purchase, they don't always take the time to read important information, like, where is the seller from? (this may not seem important to you at the time but it is when you are waiting for your item to be delivered and then realise that it has been sent from the other side of world) this is a big issue which can turn into a nightmare for both Seller and Buyer.
=====================================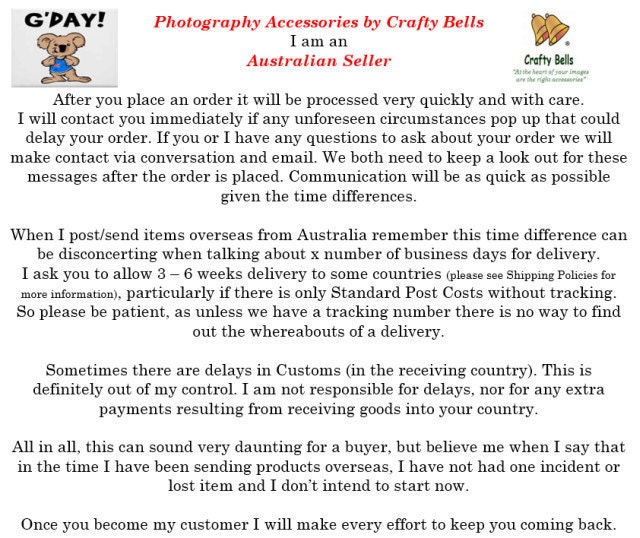 =========================================
Let's take a moment to see both sides here.
I am a Seller, I take time to list all my products with descriptions, measurements, colours, etc etc., so that it looks attractive and hopefully so appealing to the buyer that they decide to purchase. Without any other thought or research they are at the Checkout and making payment. 
As Sellers, when we are setting up our online store we have to cross the T's and dot the I's in the same way we would if we had a physical store. Not only is the process in listing all our products but we have to tell people About ourselves, setup Shipping to all around the world and write up FAQ's. This takes a lot of time but we do not complain as this is our job and it has to be done, particularly in this day and age where litigation, complaining and blaming are rife.
For me the worst part is writing about myself. All I can say is that I know I'm a good person and I excel at what I do and I will go to great lengths to get the order correct for my customer.
Then we come to the Shipping. Oh my goodness, this is really a mine field. I am in Australia but I think I would rather ship to anywhere in the world than within my own country. The delivery costs and times for delivery are just not consistent. To setup for the rest of the world is also daunting but a little easier. In saying that after the Seller has prepared the product for sending to the Buyer I will give you a run down of what happens, in my area of production.
I prepare by wrapping the product in as little packaging as possible (weight is everything)
In some case shrink packaging is great to flatten out the parcel.
Then I need to measure and weigh the package not forgetting the receipt and the envelope or wrapping to be included in the weight.
Next is filling in the customs form.
Now to the Post Office.
The Buyer did not pay for Tracking so it is $x to send. If there is Tracking it will be more $. BUT, if my estimated weights and/or dimensions do not correspond with the PO then I am up for the extra payment, which I never reveal to the Buyer as they have paid their amount in good faith.
Ah! parcel sent, now to let the Buyer know that it is on its way to them. I always give an estimate that was given to me by the PO Staff plus a couple of days more and I always point out that given the time differences 5 business days can turn to 5 or 7 depending on where in the world the Buyer lives.
Now we wait 2 or 3 weeks. Still no show. The Buyer is getting impatient and contacts the Seller to see where the hold up is. If there is no tracking number there is nothing that can be done. If there is a tracking number my chances of locating it are better but not a certainty. If the parcel has been caught up in Customs we can try and locate through the Customs Form Number but there is no guarantee. 
I explain to the Buyer the situation and ask for their patience. Most comply, although they are very disappointed, and I can understand that. However, there are some who then start to throw abuse and blame me, like I am the one on my way to deliver their parcel and I have diverted to have a good time elsewhere. If people like this would take a step back to view the entire situation first and then together we may come up with a solution.
As I said in the beginning, 
don't just purchase an item
read where the Seller is from in the world
read their background and why they do what they do
read their Shipping and Policies information
read their Reviews 
and once you get onto a Seller that you trust in their words and actions, you will not need to read it again and you will know what to expect next time.
========================================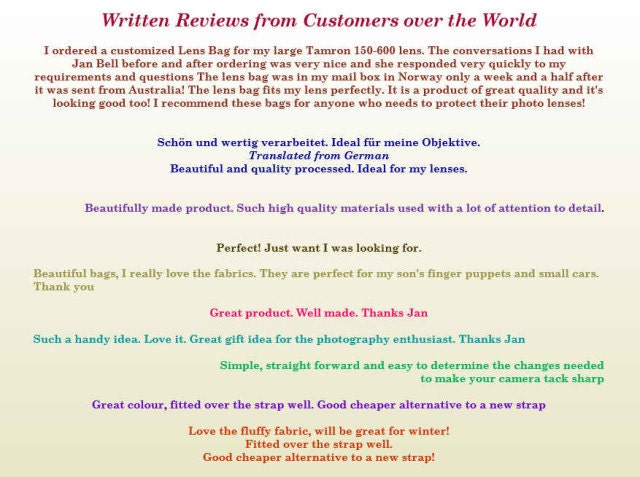 ======================================
Now to the FAQ's: These are written for a reason. In this section we (Sellers) can elaborate on shipping, how the prodcts are made and out of what materials, how to care for their products, disclaimers, how to return an item, how to apply for a refund etc etc. It is very important reading for the Buyer.
That is what the Seller goes through to get your product safely to you.
I am also guilty of purchasing without finding out more information about the Seller. Gosh, isn't that what online shopping is supposed to be about? Getting our shopping over and done with quickly without having to talk to anyone - now we have to read???
I have also been guilty of being impatient in waiting for a product to arrive. I must say though I have not abused anyone via email or conversation. I have definitely been assertive and stood my ground, particularly in one instance when after 6 weeks had passed I was told they had not sent it because they were out of stock. In that case I was eventually refunded the money.
I do not believe that to be customer service. We the Sellers need to keep in touch with the Buyers as a courtesy, as they have already paid upfront and put their trust in us to do the right thing.
So, what is the point of this blog?
My ideal is that Sellers and Buyers can co-exist without any major hiccups if we only do the right thing to whom we are dealing with. 
I have inserted pictures of information that I think are important. Hopefully you will read it and if you want to know more than please contact me. 
Pop by my stores - I'd love to see you there
https://www.etsy.com/au/shop/PhotographyAccessory or shop right here on my website. 
#craftybells #photographyaccessories #photography #accessories #camera #shipping #reviews #faq #sellers #buyers #about #etsy #etsystore #etsyblog